Complimentary bottle of Veuve Clicquot this Christmas
Nothing says holidays like bubbles in the sunshine! This holiday season we would like to offer you a complimentary bottle of Veuve Clicquot with any booking of the below Byron Bay Christmas escapes!
To find out about other fantastic Christmas holiday options for you and
your loved ones contact sarah@uniqueestates.com.au

Please note that if you have an existing Christmas booking with Unique Estates the offer does not apply.

| | | | |
| --- | --- | --- | --- |
| | Kingsley | Byron Bay, NSW | |

• Sleeps up to 10 guests
• 10min walk to the heart of Byron
• 10min walk to the beach
• 5min walk to the Top Shop
•

Spacious indoor and outdoor entertaining areas

•

Outdoor BBQ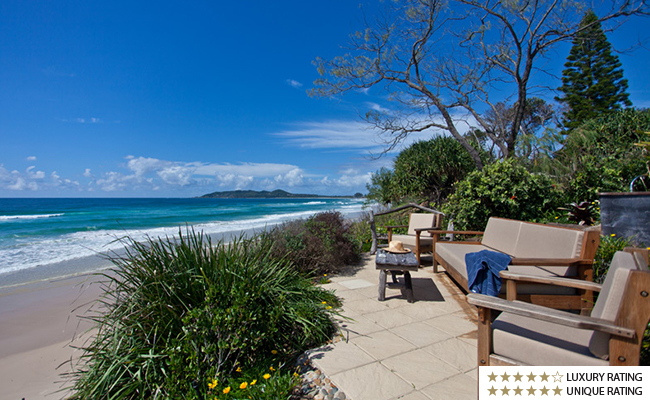 | | | | |
| --- | --- | --- | --- |
| | The Oceanfront Villa | Byron Bay, NSW | |

• Sleeps up to 4 guests
• 15min walk to the heart of Byron
•

Absolute beachfront

• 4min walk to the Belongil Bistro
•

180 degree ocean & river views

•

Yoga & pilates room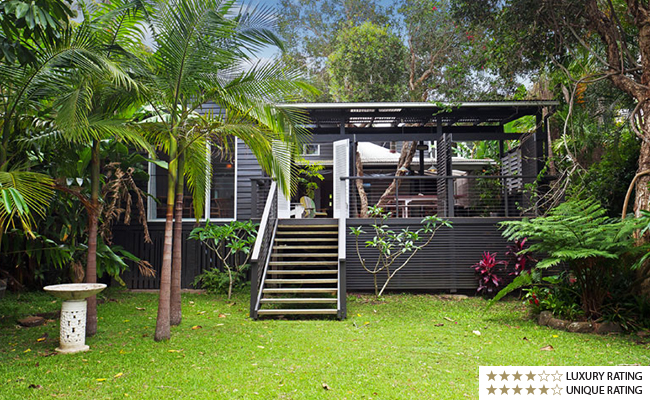 | | | | |
| --- | --- | --- | --- |
| | Paperbark | Byron Bay, NSW | |

• Sleeps up to 8 guests
• 15min walk to the heart of Byron
• 5min walk to the beach
•

Neighbours the National Park

•

Luxurious decore & feel

•

Outdoor dining for all weather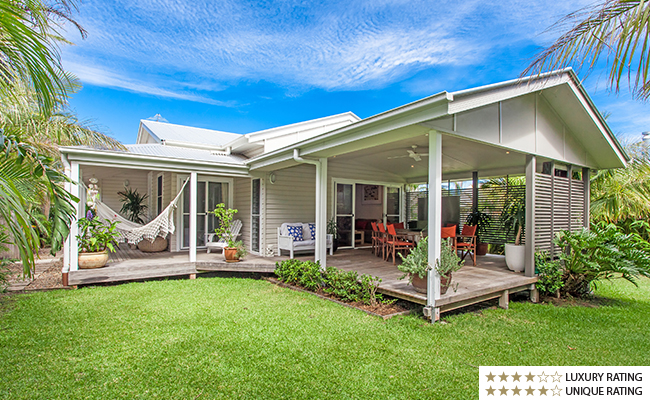 | | | | |
| --- | --- | --- | --- |
| | Abachi | Byron Bay, NSW | |

• Sleeps up to 10 guests
•

6min walk to the heart of Byron

•

6min walk to the beach

•

4min walk to the Top Shop

•

All 4 bedrooms have their own bathrooms

•

1min walk to the Green Garage grocer & cafe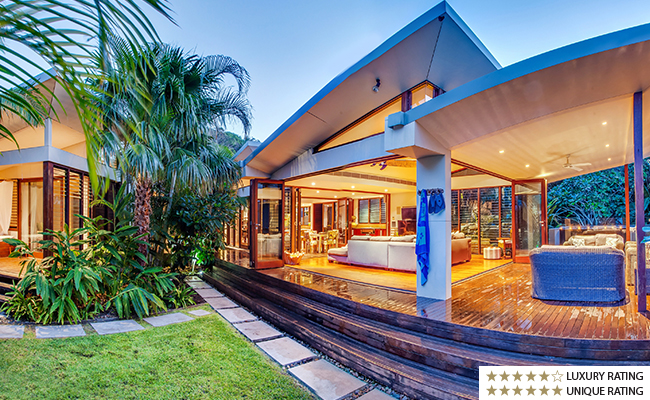 | | | | |
| --- | --- | --- | --- |
| | Pavilion 2 | Broken Head, NSW | |

• Sleeps up to 8 guests

, possibly

more on outdoor day beds

• 10min drive to the heart of Byron
• 3min walk to the beach
•

Ducted air-conditioning throughout

•

Multiple covered and uncovered deck areas

•

Outdoor bath in main ensuite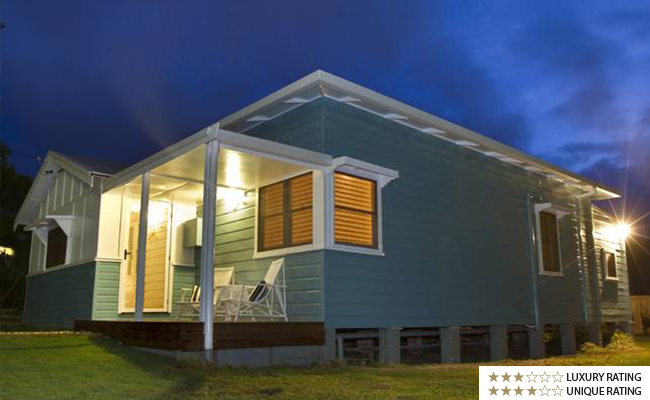 | | | | |
| --- | --- | --- | --- |
| | Drifters | Byron Bay, NSW | |

• Sleeps up to 8 guests
• 3min walk to the heart of Byron
• 5min walk to the beach
•

Lovely BBQ area

•

Beautifully furnished

• Pets allowed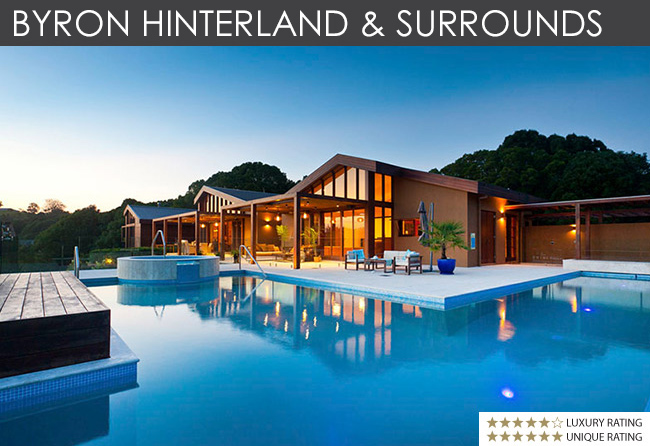 | | | | |
| --- | --- | --- | --- |
| | R & R Ranch | Byron Hinterland, NSW | |

• Sleeps up to 14 guests
• 10min drive to the heart of Byron
•

Spacious pool & spa

•

2min drive to Bangalow

•

2 fully equipped kitchens

•

Top of the range appliances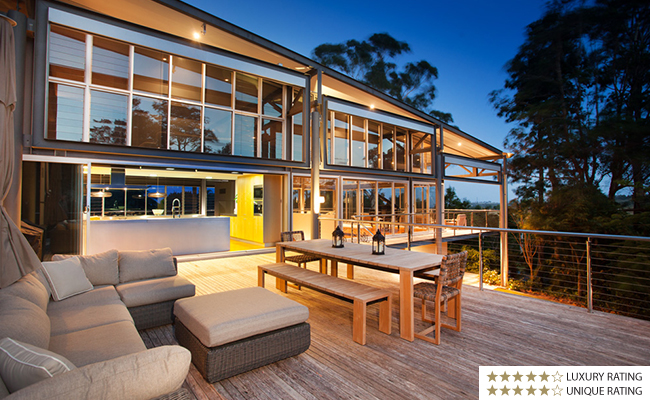 | | | | |
| --- | --- | --- | --- |
| | The Glasshouse | Byron Hinterland, NSW | |

• Sleeps up to 10 guests
• 12min drive to the heart of Byron
•

Pool with mood lighting

•

Manicured gardens & lawns

•

4 bedroom 3 leveled main house

•

Ocean views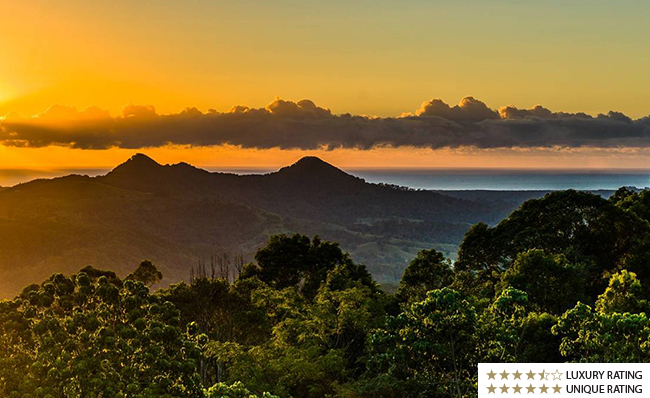 | | | | |
| --- | --- | --- | --- |
| | Altitude 261 | Byron Hinterland, NSW | |

• Sleeps up to 14 guests
• 30min drive to the heart of Byron
•

Pool & spa

•

Separate converted hangar

•

Mountain & ocean views

•

Fully equipped chef's kitchen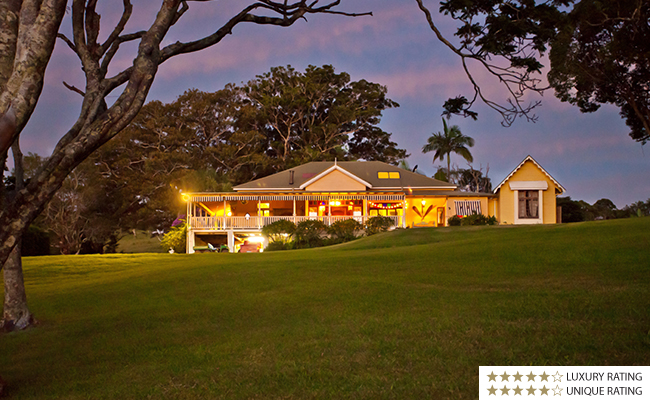 | | | | |
| --- | --- | --- | --- |
| | Coorabella | Byron Hinterland, NSW | |

• Sleeps up to 8 guests
• 20min drive the heart of Byron
• Expansive s

wimming pool

•

Huge wrap around verandahs

•

Natural waterhole

•

Panoramic sunsets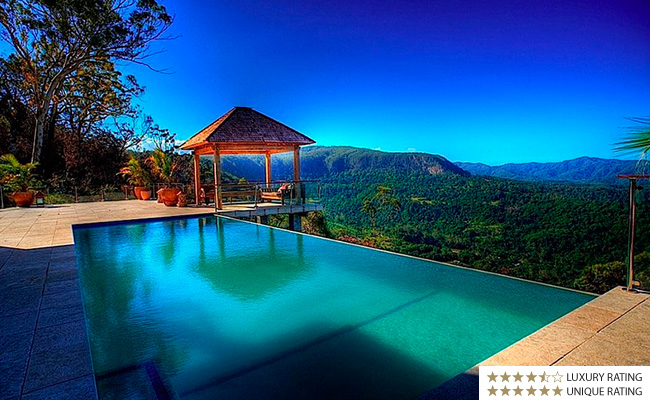 | | | | |
| --- | --- | --- | --- |
| | Koonyum Range Retreat | Byron Hinterland, NSW | |

• Sleeps up to 20 guests
• 25min drive to Byron
• 12 x 4.5 metre infinity pool
•

Double sided fireplace

•

Unbeatable ocean & ridge views

•

Fully equipped gourmet kitchen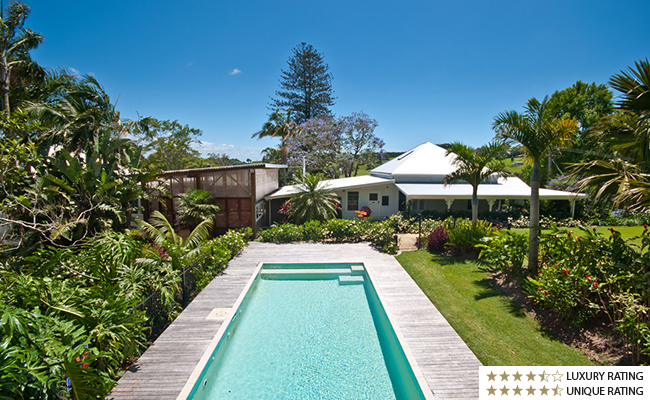 | | | | |
| --- | --- | --- | --- |
| | Gurragawee | Byron Hinterland, NSW | |

• Sleeps up to 12 guests
• 25min drive to Byron
•

Swimming pool

•

Separate 2 bedroom converted shed

•

Main house with 4 bedrooms

•

Stunning gardens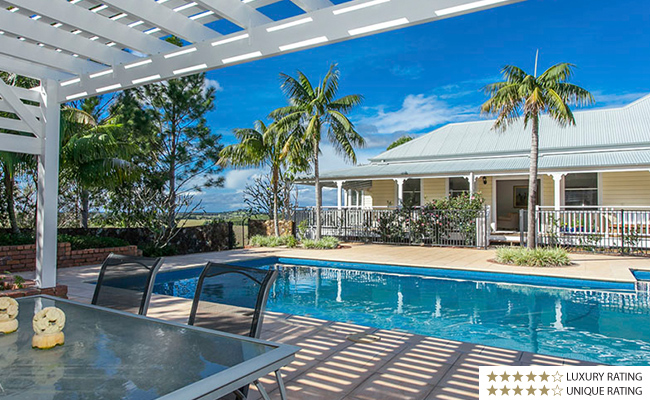 | | | | |
| --- | --- | --- | --- |
| | Felice | Byron Hinterland, NSW | |

• Sleeps up to 8 guests
• 15min drive to Byron
•

Sweeping valley & ocean views

• 6min drive to Lennox Head
• E

xpansive salt water pool

•

Complete privacy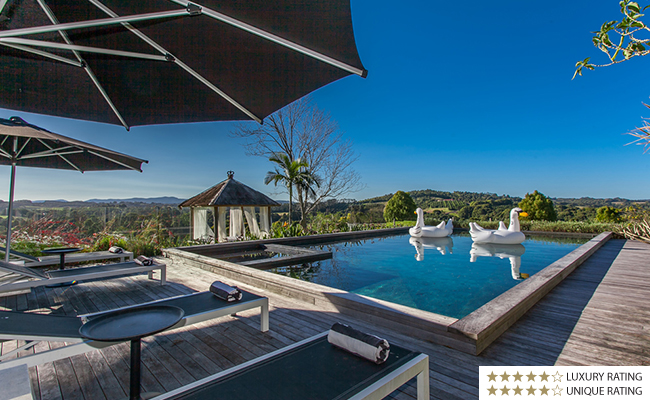 | | | | |
| --- | --- | --- | --- |
| | Aria | Byron Hinterland, NSW | |

• Sleeps up to 10 guests
• 25min drive to the heart of Byron
•

Gourmet kitchen

•

Self-contained guest house

•

13-metre infinity pool

•

Media room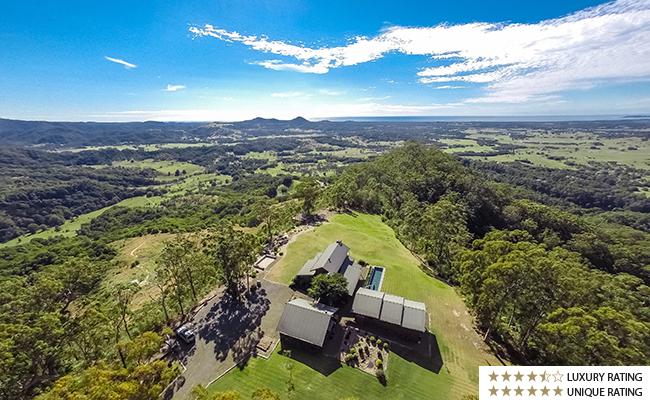 | | | | |
| --- | --- | --- | --- |
| | Aquila | Byron Hinterland, NSW | |

• Sleeps up to 6 guests
• 25min drive to the heart of Byron
•

20min to Gold Coast Airport

•

12m salt water lap pool

•

130 acre property

•

Complete privacy

| | | | |
| --- | --- | --- | --- |
| | Vermont Hideaway | Byron Hinterland, NSW | |

• Sleeps up to 12 guests
• 20min drive to Byron
•

In-ground pool with comfortable daybeds

•

Beautiful furnishings

•

Amazing expansive gardens

•

Private and peaceful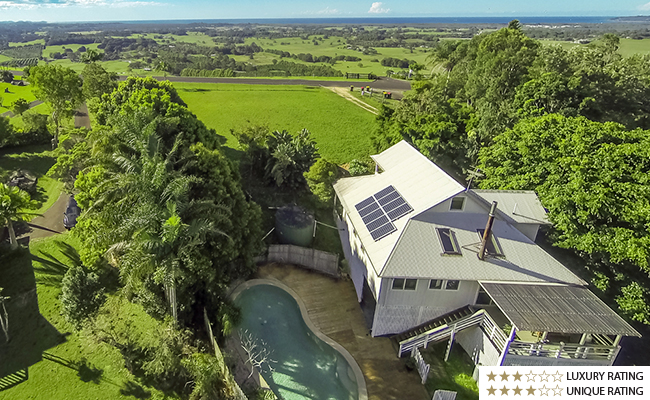 | | | | |
| --- | --- | --- | --- |
| | La Hacienda | Byron Hinterland, NSW | |

• Sleeps up to 6 guests
• 12min drive to the heart of Byron
• 10min drive to the beach
•

5min drive to Bangalow village

• O

cean & lighthouse views

•

Lovely pool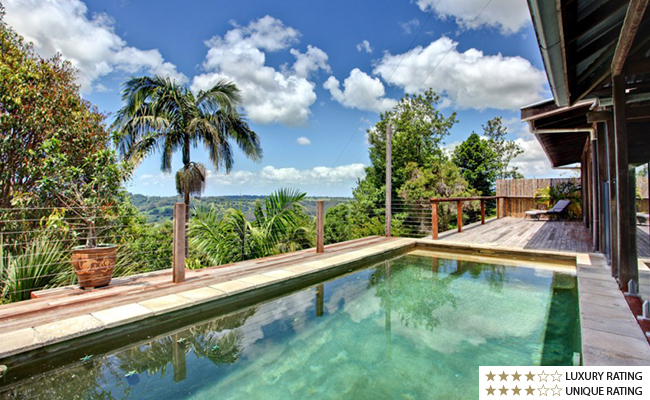 | | | | |
| --- | --- | --- | --- |
| | Luna Mia | Byron Hinterland, NSW | |

• Sleeps up to 8 guests
• 25min drive to the heart of Byron
•

Pool with large decks

•

Lush tropical gardens

•

Separate self-contained studio

•

Covered outdoor gazebo with BBQ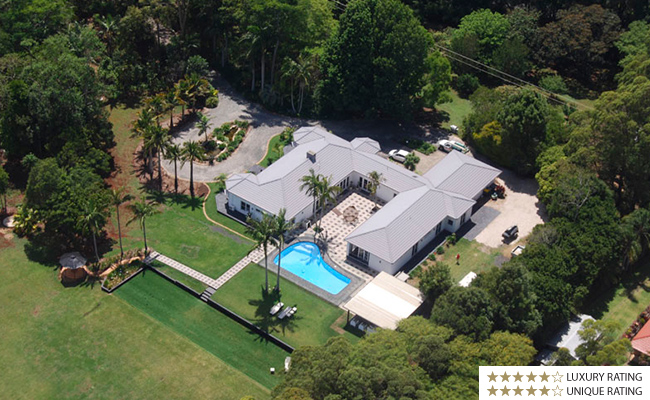 | | | | |
| --- | --- | --- | --- |
| | Newrybar Downs | Byron Hinterland, NSW | |

• Sleeps up to 10 guests
• 25min drive to Byron
•

Saltwater swimming pool

•

2 living and 2 dining rooms

•

Panoramic views over the lush hinterland

•

Superb fully equipped kitchen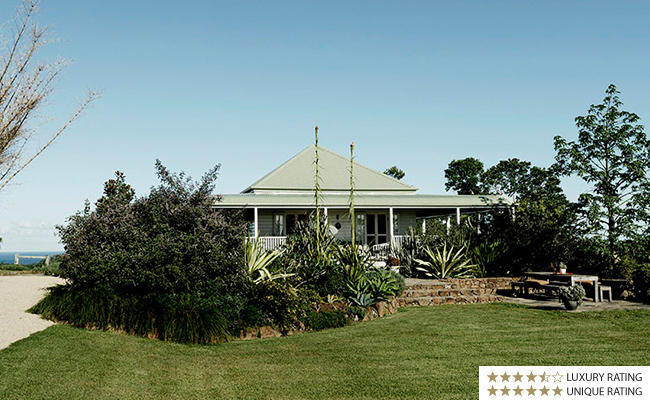 | | | | |
| --- | --- | --- | --- |
| | Byron View Farm | Byron Hinterland, NSW | |

• Sleeps up to 2 guests
• 10min drive to the Byron
•

Wide wrapping verandas

•

360 degree decks wrapped around the cottage

•

Bose sound system and iPod docks

•

Cook books and fully equipped kitchen

visit

www.uniqueestates.com.au

call

1300 911 720

or

+61 2 6680 9888