Win a case of Veuve Clicquot & $500 voucher for a Unique Escape
Are you a past guest of ours or have a booking coming up soon? Well then winning may never have been so easy! Jump onto instagram and follow @unique_escapes_byron
Tag us in a photo of you or your loved ones enjoying your holiday at one of our Unique Escapes.
We will be taking entries from 1st May - 31st October 2015.
Our favourite photo will be chosen and announced on instagram on Tuesday 3rd November 2015.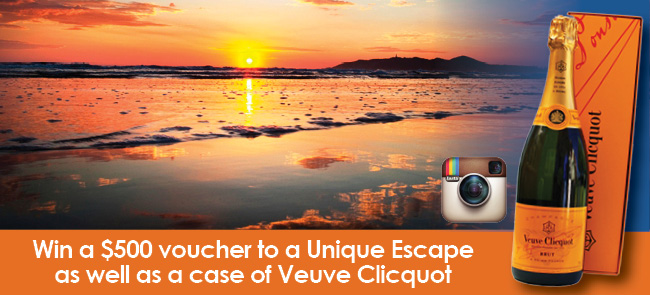 We also have some fantastic Autumn & Winter deals for you to enjoy. This really is the most amazing time of year in the Northern Rivers. The whales are about to start migrating and warm sun-filled days are perfect to enjoy the empty beaches. Winter holidays in Byron mean hot tubs, beach days, open fires in the evenings, red wine, delicious cups of locally grown coffee, amazing produce from the local farmers market and an endless choice of great restaurants & bars without the crowds of tourists.
Time for a weekend away you think? We have a selection of great 'pay for 2 nights and stay for 3 night' deals
running between the 1st May - 31st August 2015.
(excluding long weekends, school holidays & Splendour in the Grass)

Each booking will also receive a complimentary bottle of single vineyard series Sam Plunkett Box Grove Shiraz 2013
Please contact Sarah or Marketa from Unique Estates for availability and more fantastic weekend package options.
sarah@uniqueestates.com.au | marketa@uniqueestates.com.au
or Freecall 1300 911 720

| | | | |
| --- | --- | --- | --- |
| | R&R Ranch | Bangalow, NSW | |

Included in the booking all linen & towels, Sam Plunket Shiraz, local organic Bun coffee
& selection of teas, Byron Bay Cookies, organic Bun rapadura sugar & fresh milk
•

25m lap pool & hot tub

•

Pool table & outdoor fire pit

•

Surround sound system

• Complete privacy
• Sleeps up to 14 guests
• 2min drive to Bangalow
•

10-12min drive to Byron & the beach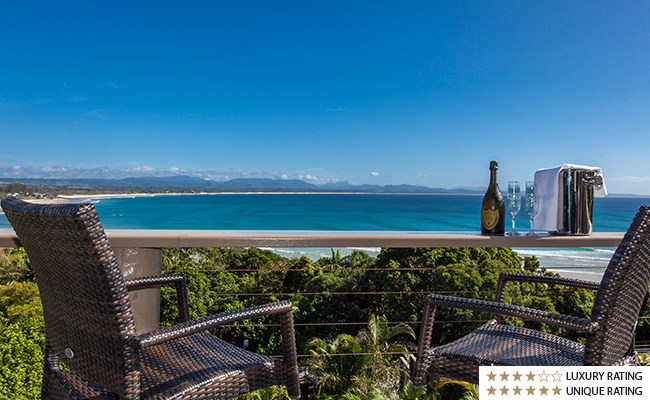 | | | | |
| --- | --- | --- | --- |
| | Villa Natasha Bonita | Byron Bay, NSW | |

Included in the booking all linen & towels, Sam Plunket Shiraz, Byron Bay Cookies, coffee & selection of teas & fresh milk
•

Enormous luxury spa

•

Outside deck with BBQ

•

Sweeping ocean views

•

Sleeps up to 16 guests

•

1min walk to Clarkes Beach

• 10 - 15min stroll to Byron centre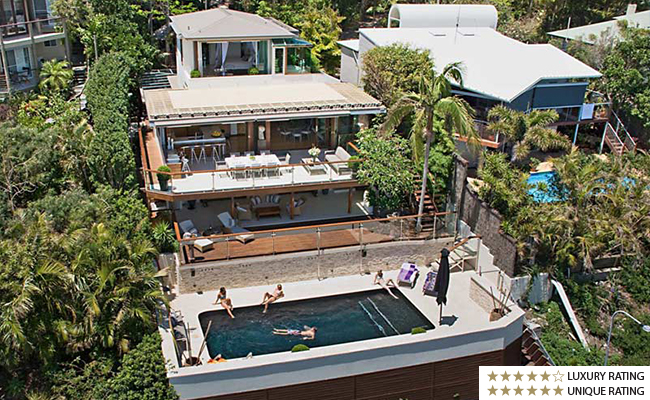 | | | | |
| --- | --- | --- | --- |
| | Villa Gabrielle | Byron Bay, NSW | |

Included in the booking all linen & towels, Sam Plunket Shiraz, Byron Bay Cookies, coffee & selection of teas & fresh milk
•

Magnificent swimming pool

•

3 levels of resort style luxury

•

Sweeping ocean views

•

Sleeps up to 7 guests

•

1min walk to Clarkes Beach

• 10-15 min stroll to Byron centre

| | | | |
| --- | --- | --- | --- |
| | Amalfi Villa Byron | Broken Head, NSW | |

Included in the booking all linen & towels, Sam Plunket Shiraz, Byron Bay Cookies, coffee & selection of teas,
organic Bun rapadura sugar & fresh milk
Under renovation until July 1st - bookings taken from then
•

Beachfront property with direct sand path access

•

Unique hammock & daybed sanctuary

•

Brand new designer pool

•

Sleeps up to 14 guests

•

15min walk to Suffolk Parks' cafes

•

15min drive to the centre of Byron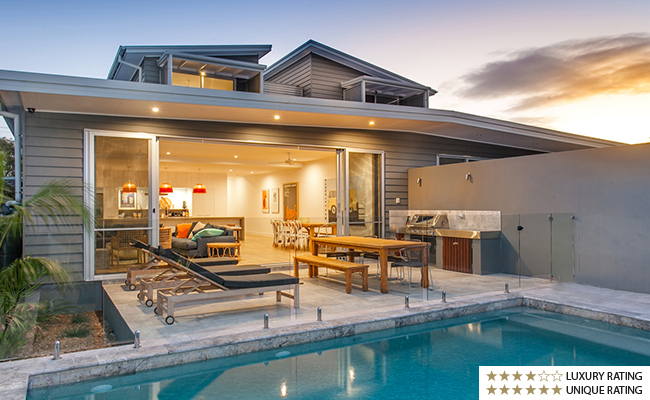 | | | | |
| --- | --- | --- | --- |
| | Stonecutters | Byron Bay, NSW | |

Included in the booking all linen & towels, Sam Plunket Shiraz, Sanctum soap,
local organic Bun coffee & selection of teas, Byron Bay Cookies, organic Bun rapadura sugar & fresh milk
Brand new build completed December 2014
•

Private sun-filled pool

•

Open plan kitchen & dining

•

4 ensuited bedrooms

•

Sleeps up to 10 adults

•

1min walk to Bay Leaf Cafe

& Naked Treaties

•

5min walk to the beach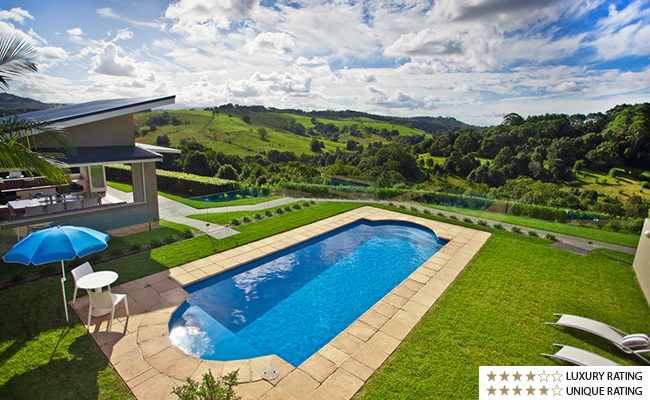 | | | | |
| --- | --- | --- | --- |
| | Byrons Brae | Possum Creek, NSW | |

Included in the booking all linen & towels, Sam Plunket Shiraz, Sanctum soap, coffee
& selection of teas, Byron Bay Cookies, organic Bun rapadura sugar & fresh milk
• Stunning hinterland views

• Private sun-filled pool

•

Pool house & outdoor fire-pit

•

Indoor fireplace

•

5 spacious bedrooms

•

Sleeps up to 10 adults

•

5min drive to Bangalow

• 15-20min drive to Byron & the beach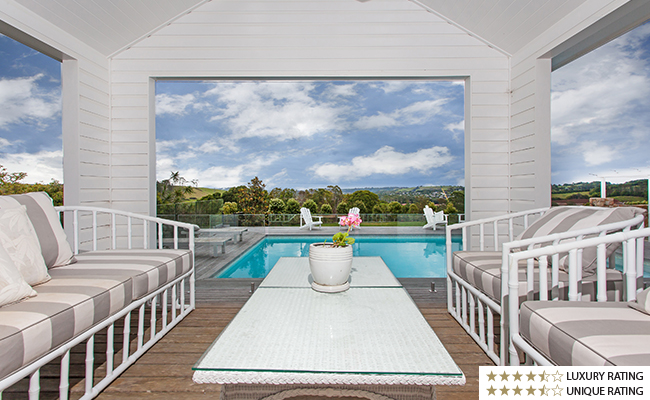 | | | | |
| --- | --- | --- | --- |
| | Graciosa | Bangalow, NSW | |

Included in the booking all linen & towels, Sam Plunket Shiraz
| | |
| --- | --- |
| • Stunning hinterland views | • Private sun-filled pool |
| • Outdoor entertaining areas & BBQ | • 5 lovely bedrooms |
| • Sleeps up to 8 adults | • 5min drive to Bangalow |
| • 15min drive to Byron & the beach | |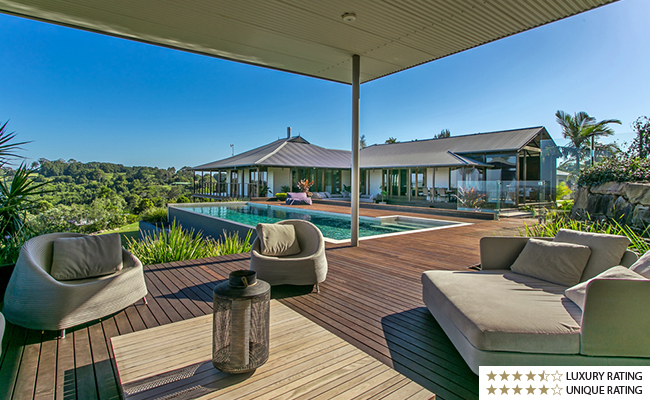 | | | | |
| --- | --- | --- | --- |
| | Callistemon | Federal, NSW | |

Included in the booking all linen, towels & Sam Plunket Shiraz
| | |
| --- | --- |
| • Newly renovated hinterland home | • New infinity pool with ocean & valley views |
| • Outdoor undercover lounge area | • Outdoor couches & fireplace |
| • Sleeps up to 10 adults | • 1min drive to Federal centre & Doma Cafe |
| • 20-25min drive to Byron & the beach | |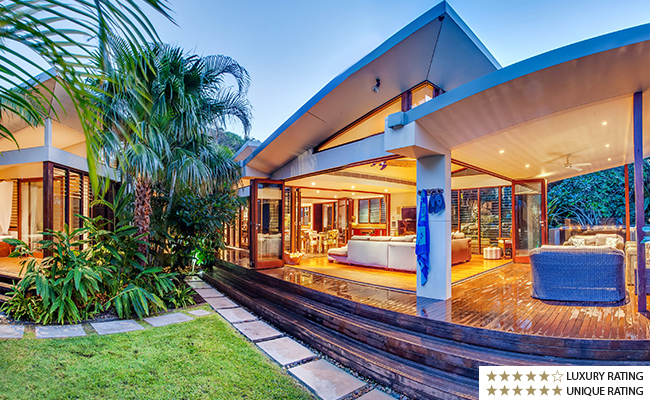 | | | | |
| --- | --- | --- | --- |
| | Pavilion 2 | Broken Head, NSW | |

Included in the booking all linen & towels, Sam Plunket Shiraz, local organic Bun coffee
& selection of teas, organic Bun rapadura sugar & fresh milk
| | |
| --- | --- |
| • Pro-art integrated sound system throughout | • Beachfront property with |
| • Direct sand path access | • Private plunge pool |
| • Sleeps up to 10 guests | • 15min walk to Suffolk Parks' cafes |
| • 15min drive to the centre of Byron | |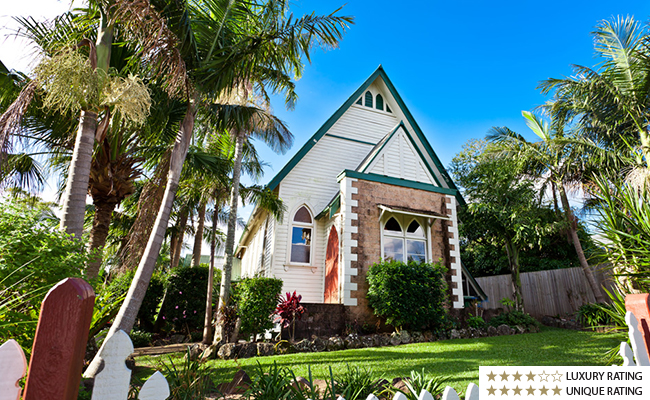 | | | | |
| --- | --- | --- | --- |
| | The Old Church Byron Bay | Newrybar, NSW | |

Included in the booking all linen, towels & Sam Plunket Shiraz
| | |
| --- | --- |
| • Beautiful and historic building, built in 1911 | • Games room and beautiful landscaped gardens |
| • Enormous fully equipped kitchen | • Table tennis |
| • Sleeps up to 12 guests | • 3 min drive from Gaia Retreat |
| • 100 metres Harvest Restaurant & Cafe | |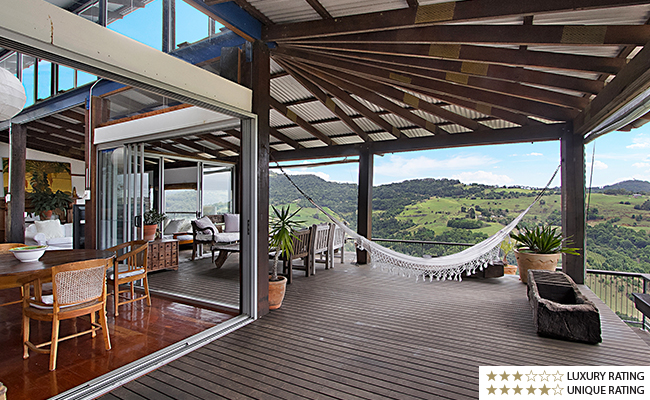 | | | | |
| --- | --- | --- | --- |
| | Rock Retreat | Upper Duroby, NSW | |

| | |
| --- | --- |
| • Expansive 360 degree ocean & coastal views | • Cliff top retreat style house |
| • Open fireplace | • Sleeps up to 8 guests |
| • Wrapping balconies | • 45min to Byron Bay |
| • 15min to Gold Coast Airport | |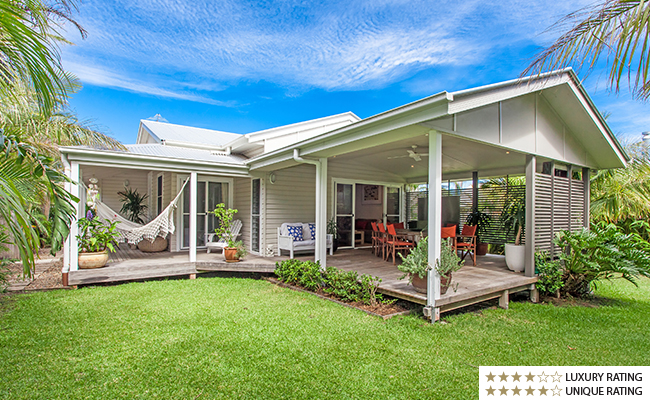 | | | | |
| --- | --- | --- | --- |
| | Abachi Main House | Byron Bay, NSW | |

Included in the booking all linen & towels, Sam Plunket Shiraz, local organic Bun coffee
& selection of teas, Byron Bay Cookies, organic Bun rapadura sugar & fresh milk
| | |
| --- | --- |
| • 100 year old Fisherman's Cottage | • Beautifully renovated |
| • 4 ensuited bedrooms | • 5th bed/sitting room off the master suite |
| • Separate studio can be rented - sleeps 2 | • Sleeps up to 10 adults |
| • 1min walk to Green Garage | • 1min walk to Green Garage |

visit

www.uniqueestates.com.au

call

1300 911 720

or

+61 2 6680 9888